IP170D
Take Control
The best just got better. The new IP170D is a powerful TCP-IP based bus-level interface to DSC PowerSeries panels. It allows the end-user to view the status of and even control their alarm panel through a standard web-browser. With the addition of the free EYEZ-ON ESP service this control is enhanced and can be extended to anywhere in the world. ESP also allows the end-user to specify an unlimited number of e-mail or SMS addresses to receive alarms, arms, disarms and more. VOIP Friendly.
"Recently added this DSC portal to my home alarm system. It's great, I have been enjoying the great features of the IP100D just over the last 2 months. It has a lot more capability than the DSC TL-150. House temperature change requests work great."
- via Forum
"This was a great purchase decision. This should bring in a whole new base of customers, if they realize the potential."
- via Forum
"That was just the easiest install of well ... anything I've ever installed. Just plug it in and it works! Stellar product. Thank-you!"
- via eMail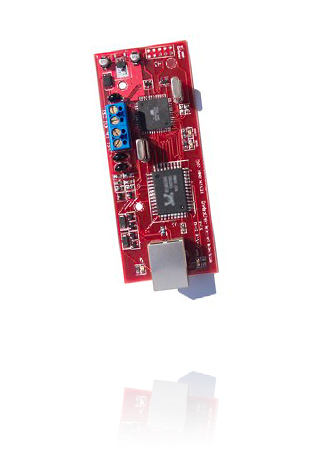 $99
*

Module Features
**New** Remotely upgradable to allow new features to be easily added
**New** EnvisaLink Expansion Port (EEP) - allows new expansion modules to be attached as they become available
Simple to hook-up
Built-in basic web server and html user-interface
128-bit encryption
Real-time zone status with "time-since-tripped " feature
Local Arm/Disarm/Zone Bypass/PGM Control
Multi-Partition Support
Works with DSC Escort Module to view and control attached thermostats
With ESP
Remote Arm (Away & Stay, *9 Arming)/Disarm/Zone Bypass/PGM Control
Event Logging
Receive Alerts by e-mail or SMS with an unlimited contact list.
See at a glance system status on a map in ESP interface.
New "Smart Phone" optimized version of the ESP portal.
Specifications
Power Draw: 65 mA
Connectors: RJ45, 4-Terminal Srewdown
Dimensions: 10.5 cm (4-3/16") x 4.2 cm (1-11/16")
* Shipping charges and taxes not included.
Included In The Box
IP170D Module
Mounting Stand-offs
Installation Guide